Wireless Otoscope with Ear Cleaning Scope
The Best Ear Cleaning Camera
Ultra Slim & Safe Digital Otoscope

 This iPhone / Android wireless otoscope is the perfect tool to inspect your ears with a

3.9mm camera probe and ear cleaning tool kit. Six LED lights illuminate the ear canal and a multi-coated glass lens gives you the best view. It's the perfect tool to safely remove ear wax for adults or children.

5-in-1 Multi-Purpose Wireless Smart Otoscope 

You can check, clean, and inspect your ear, nose, mouth, and throat. This ear scope is designed for adults, children and pets. It also lets you save photos and videos, and does photo comparisons too.

Ultra Thin Wireless Ear Cleaning Camera

- The super thin 3.9mm camera tip is compatible with all members of the family. Three speculum tips are included and used to prevent over insertion and ear injuries.

Easy to Use

This wireless otoscope is controlled by just 1 button! The simple-to-use design includes 6 LED lights and overheat protection to guarantee the best customer experience.

High Definition Video

- This wireless ear-cleaning camera can capture live video and pictures at 1280x720p resolution. This wireless otoscope

 is the perfect solution for at-home ear check ups or virtual doctor appointments.
iPhone and Android Compatible Wireless Otoscope Camera - This smart otoscope uses a WiFi connection for compatibility with all iOS and Android mobile devices. NOTE: It does NOT SUPPORT PC or Macbook!!!
Easy cleaning process 

- Quick and easy cleaning, simply use a cotton swab to clean. It is also recommended to disinfect the speculum with alcohol wipes after each use.

Great Customer Service

- If you have any questions about this ear cleaner with light and camera, please contact us at any time. We offer a 1-year guarantee, full refund, and 24-hour response time.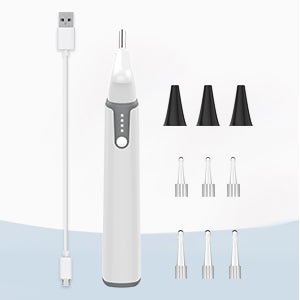 1080P HD Wireless Otoscope
Your Family's Health - We are committed to making professional otoscopes that are simple to operate  and convenient to use so you can focus on your health.
Ideal Ear Scope - Having a wireless otoscope at home is a great idea for checking on a family member's ear, nose, or oral health. Our otoscope is the best ear camera for remote doctor's appointments or other virtual health diagnosis. 
Ear Scope Cleaner - Clean out your ears with the included speculum.
Box Contains
1x digital otoscope

1 x charge cable

6 x ear spoons

3 x speculum

1 x user Manual
Multiple Coated Glass Lenses

Crafted from aircraft-grade aluminum and premium optical glass for durability and clarity.

Special Non-heating Chip

Latest tech of smart-chip, NO worry of the otoscope being overheating or too cold. Makes safer and better experience!

Light Up the Darkness

6 LED lights - Marvel your view. Designed for the dark environment of the ear canal.
Clearer HD View

Need a high-quality otoscope to check and clean your ear ? Our ear scope will provide superior viewing quality than other products.

The finest and Safest Otoscope

3.9mm ultra thin diameter camera is a lot safer than 4.3mm and 5.5mm camera in the market, which will prevent the auditory content from being scratched.

Easy Cleaning Process

Quick and easy cleaning; Simply use damp cotton with water or alcohol to clean.
Explore ScopeAround