Best Ear Wax Removal Camera for Home Use
Easy To Use Digital Otoscope

 with Screen - You can use this ear wax removal otoscope to inspect your ear, nose, skin, mouth, or even your pets. Perfect for sharing pictures with your doctor at virtual appointments.

Large 4.5" Scree

n - The LCD screen with IPS technology has been increased to 4.5 inches with three times the resolution of previous models. Includes a tough glass screen and a 2x digital zoom. 

No App Needed

- This standalone otoscope requires no App or other devices to work. Just turn it on and it is ready to record photos or video in 720p resolution to the included 32 GB micro SD memory card.

Ultra Slim 3.9mm Camera

- The otoscope probe can access adult and children's ear canals easily, while the 720p HD camera sensor and 6 adjustable LED lights, offering a crystal clear view. Three specula are included to prevent over insertion of the camera.

Photo and Video Recording

- Users can capture live photos and videos, as well as save them to the inserted 32GB memory card. This unit could be used as a doctor ear scope camera or to send photos or videos to your doctor. 

LED Ring Light

- Six LED lights are adjustable for brightness and give the camera a perfect view of the darkest areas.

2500 mAh Rechargeable Battery

- A built-in rechargeable lithium-ion battery with high capacity supports long use & fast charging. It lasts up to 4 hours in a recommended temperature range of 32°F to 113°F (0°to 45°C).

Package Contents

- 4.5-inch Monitor, 3.9mm ear scope wax removal camera probe, Detachable Bracket (stand), user manual, 3x specula, 4x ear spoons ( 2 for adult, 2 for children), USB charging cable (charger NOT included).
Plug & Play Operation




• 4.5" IPS screen

• Real time photos & videos

• 2500 mAh battery for up to 5 Fun Hours

• No APP needed

• No Wifi needed

Ear Cleaner with Camera




• 3.9mm (1.5 inch) diameter

• 6 adjustable LED light

• 1920x1080 FHD high resolution

• Operation Temp: 32°F to 113°F

Complete Ear Wax Removal Kit




• 4 types of ear picks

• 3 reusable ear specula

• 32GB SD card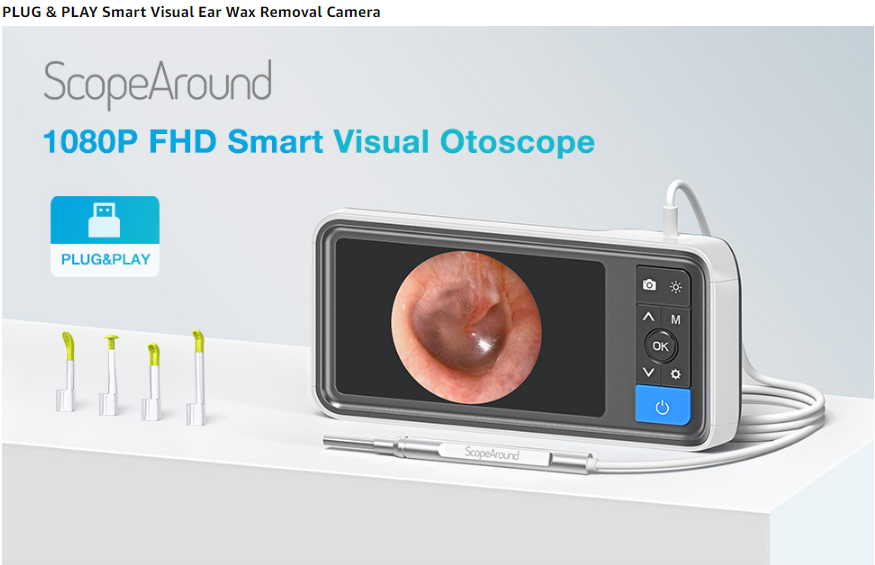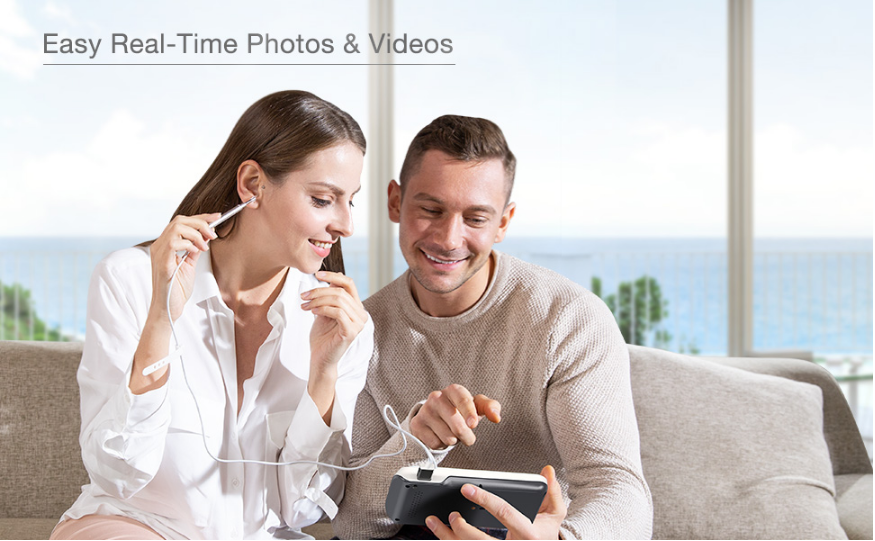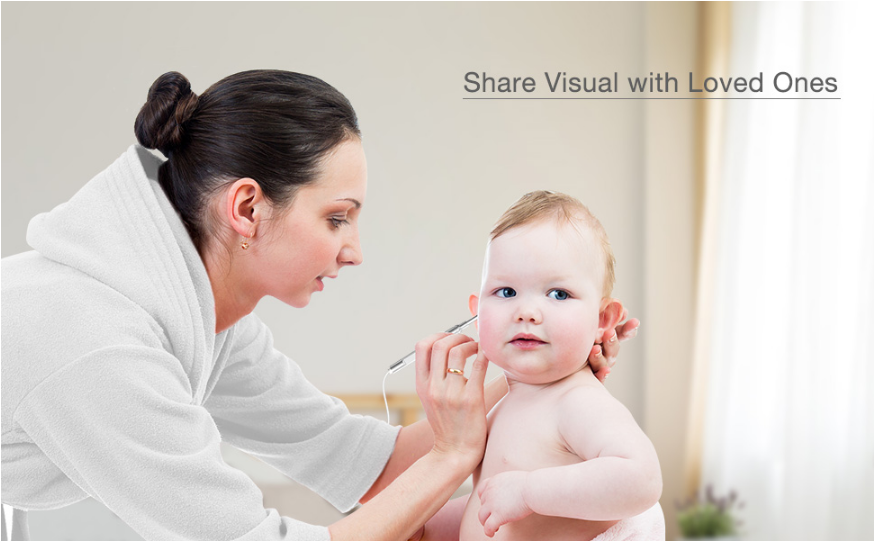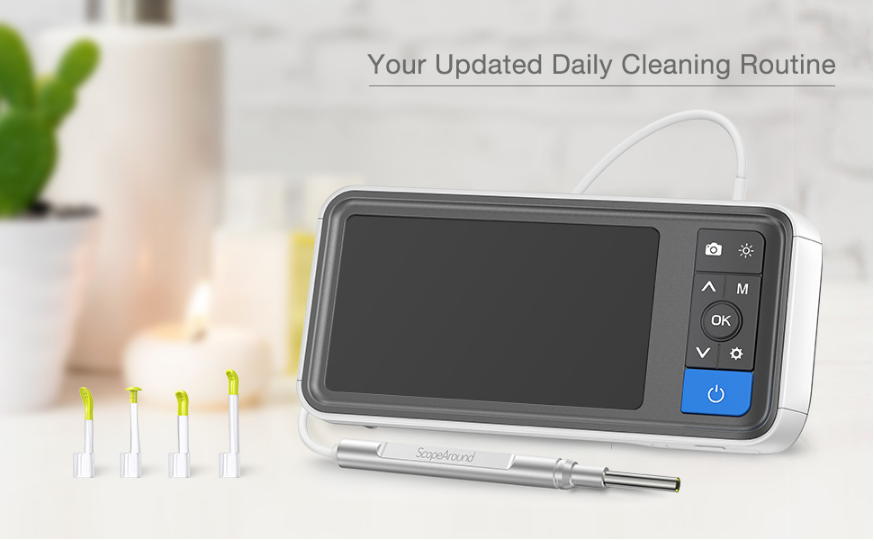 Tips:
1. Read the instruction manual before use
2. Clean the ear caps using 75% alcohol wipes before and after each operation
3. Gently apply the ear picks to protect ear canal and ear drum
4. For at home daily use only. For severe ear wax blockage, please contact ear doctor
Explore ScopeAround
Otoscopes with Screen FAQs
What type and resolution of screen do otoscopes with screens come with?
Stand-alone ScopeAround otoscopes come with scratch resistant, tempered glass screens with 854x480p resolution or more. The screens have good visibility from all angles and are quite durable.
Why should I purchase an otoscope with screen from ScopeAround?
ScopeAround was the first company to manufacture and sell an otoscope with screen to consumers. They continue to make and sell otoscopes with screens and have taken years of customer feedback and manufacturing experience to continue improving their products to offer the largest line of otoscope products available.
Why might I need or want an otoscope with a screen?
Otoscopes with screens are the easiest to use. Many otoscopes on the market connect over USB cables or over WiFI networks, but otoscopes with screens are easier to use because you don't need to connect to the WiFi network or get the app downloaded and working on your mobile device. Otoscopes with screens include their own screens, memory for storage of photos and videos, and batteries to power the whole system. They start up and are ready to use with just the push of one button.
Do otoscopes with screens have recording capability? Can I export videos?
All of the otoscopes with screens that ScopeAround makes have the capability to record and save photos and videos. Digital content is saved to a memory card, usually a Micro SD card, and later on you can remove the card and read its contents with a card reader or you can leave the card inside the device and read the card's contents by plugging the screen into a computer with a USB cord. Both of these methods will allow you to export the photos and videos.