Our Digital iPhone Otoscope Works for Ear Wax Removal Too!
Ultra Slim & Safe

 Are your ears itching or irritated? Do you need photos for virtual doctor visits? This iPhone / Android otoscope is the perfect tool to inspect your ears or mouth with a 4.3

mm camera probe and ear wax removal tool. Six LED lights illuminate and a multi-coated glass lens gives you the best view.

5-in-1 Multi-purpose

You can check, clean, and inspect your ear, nose, mouth, and throat. This otoscope is designed for adults, children and pets. It also lets you save photos and videos.

Ultra Thin Camera

- The super thin 4.3mm camera tip is compatible with all members of the family: adults, children, and pets. Three speculum tips are included and used to prevent over insertion and ear injuries.

Easy to Use

The simple-to-use design includes 6 LED lights and overheat protection to guarantee the best customer experience.

High Definition Video

- This ear-cleaning camera captures live video and pictures at 1280x720p resolution.

It is the perfect solution for at-home ear check ups or virtual doctor appointments.

Ear scope iPhone and Android Compatible

- This smart otoscope uses a USB/Lightning connection for compatibility with all iOS (iPhone and iPad) and Android mobile devices. NOTE: It does NOT SUPPORT PC or Macbook!!! This is an ear scope for iPhone or ear camera iPhone, video otoscope iPad, or for Android devices.

Best iPhone Otoscope - If you are looking for the best digital otoscope for iphone, ScopeAround's nte100i is a fantastic option that is one of the best iphone ear cleaning cameras on the market.
IP67 Waterproof

- This device is safe to rinse under running water. It is also recommended to disinfect the speculum and camera lens with alcohol wipes after each use.

Great Customer Service

- If you have any questions about this product, please contact us at any time. We offer a 1-year guarantee, full refund, and 24-hour response time.

What's Included

- Digital Otoscope Camera x 1, Speculum (Protector) x 3, Ear Pick Scooper x 4, All-in-One USB Adapter x 1, Micro USB Cable x 1, Type-C Adapter x 1, Apple Lightning Adapter x 1, Alcohol Prep Pad x4, User Manual x 1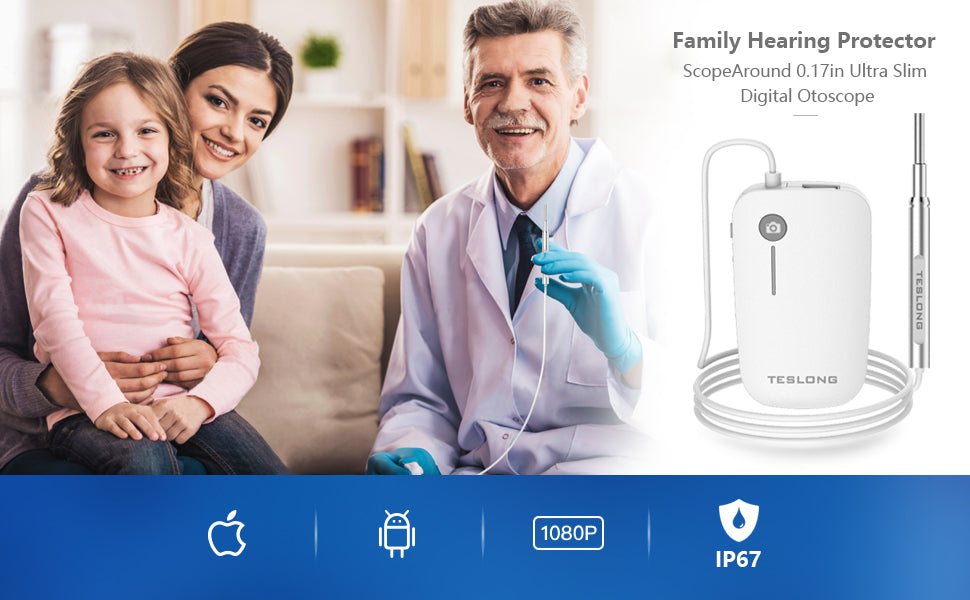 Works for iPhone and Android Devices
Ear wax camera iPhone and Android
Want an otoscope digital to check your ears at home but find that other otoscopes are just for android and PC? Do not worry! ScopeAround digital otoscopes are compatible with both iPhone and Android to solve these troubles for you.
Explore ScopeAround