Dual Lens Endoscope Camera with 1080P HD LCD Monitor
Dual Lens Endoscope

-

Two HD cameras are built into the 8mm diameter camera probe. In addition to the forward facing HD camera, the second camera is oriented 90° for a perfect side view.

 A 70° field of view for each lens gives a total 140° view to eliminate blind spots and capture every detail.

Switch between the two cameras with the push of a button.

Save Time And Money

-

This endoscope can be used for mechanical inspection, car repair, plumbing fixes, electrical installs, house DIY, wall upgrades, firearm cleaning, air conditioning maintenance, and more.

16.4ft Camera Cable

-

The flexible cable with 8mm diameter snake camera easily passes through hard-to-reach areas. The flexible cable holds its shape well for easy handling.

4.5˝ LCD Display

-

 A 4.5-inch LCD color screen with IPS Technology is included, which helps capture clearer images for improved inspections. A built-in 2500 mAh battery boots immediately with no need to connect to WiFi or download any software.

LED Ring Light

-

Six LED lights are adjustable for brightness and give the camera a perfect view of the darkest inspection areas. The side camera has its own LED light for side illumination.

IP67 Waterproof

-

 The camera cable has an IP67 waterproof design allowing the camera to operate 1 meter, or 3.28ft, underwater . The monitor is also rain proof so you can confidently operate it outdoors, near plumbing work and other wet environments.

Zoom/Rotate Image

- The camera can magnify the image 1.3 X and 1.5 X to aid in inspection. A 180-degree rotation function helps you orient the image as needed.

32GB Memory Card

-

The inspection camera has a built-in micro SD card that supports JPG image and AVI video recording. It has a microphone and speaker, and can record voices when shooting videos, which is convenient for reviewing problems later.

2500 mAh Rechargeable Battery

- The 

built-in rechargeable lithium-ion battery with high capacity supports long use & fast charging. It lasts up to 4 hours in a recommended temperature range of 32°F to 113°F (0°to 45°C).

What You Get

-

Includes the 4.5˝ LCD monitor, dual-camera probe, Type-C charging cable, 32GB micro SD card, screen bracket, accessories (hook, magnet), carrying bag, user's manual, our worry-free 18-month warranty and friendly customer service based in the United States.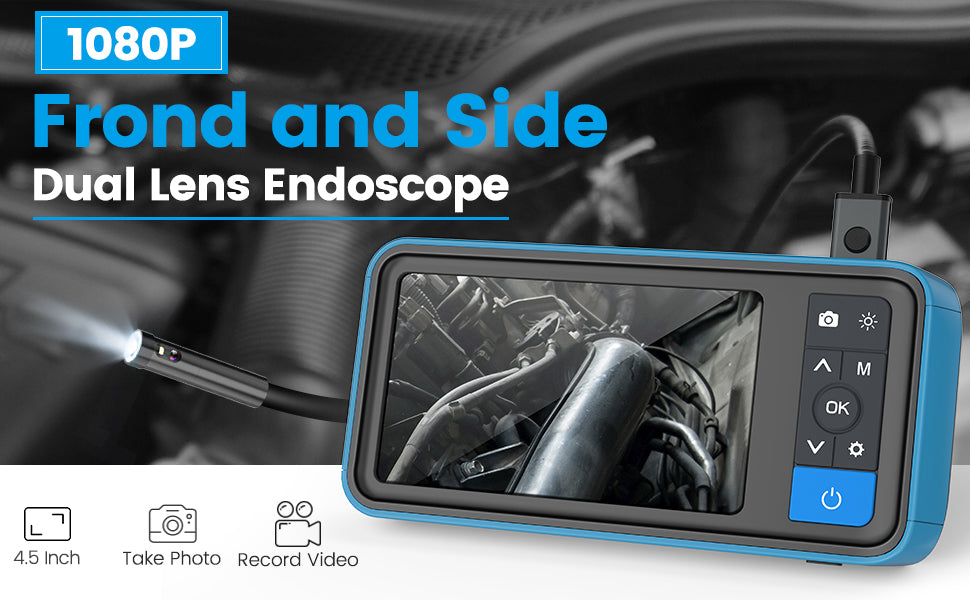 Specifications :
Display: Water Proof 4.5 inch LCD Screen

Resolution: 1920x1080, 1280x720

Front/Side Lens: 70° and 70° with 8-glass HD lens

Best focusing distance: 20mm-100mm ( 1-4 inch)

Light: 6 adjustable LED lights

Power Source: 2500mAh lithium battery

Port: Type-C charging port

Storage: 32GB TF card (INCLUDED)
Ergonomic Holding Bracket

The bracket can perfectly fit your needs when you want to check and fix thing at the same time. It only takes 1 minutes to get it installed at the back side of the endoscope, which helps you to get all the job done easily.

1080P High Resolution

1080P HD and 4.5 inch large screen can capture more detail and provide you the best visual experience.

IP67 Waterproof

This inspection camera is equipped with a semi-rigid waterproof cable that is acceptable to work in a damp or wet environment.

Rechargeable Battery

Built in 2500mah rechargeable lithium ion battery, ScopeAround endoscope inspection camera can support you work for a long time.(4-5 hours)
Dual Lens Design

70° front lens and 70° side lens totaling 140° view help eliminate blind spot and capture more detailed photos & videos.

Dual 8-Glass Lens


Equipped with dual large aperture 8-glass lens, minimize ghosting and reflections .The endoscope has high performance and bright lens optics, which captures crystal clear photo and video in any area.

High-intensity auxiliary light source

6 adjustable LED lights on the tip of the camera really help to improve brightness & clarity of images, even in dark or poor lighting condition.

Record video and take photos

This endoscope creates high-definition photos & videos and saves them in the SD card, making it easier for users to take a look at them at their own convenience. One the computer, it allows users to check out and watch more HD images & videos.